Eighth Day Descent @ The Montague Arms
Metal bands aren't that popular in the blog-o-sphere, which is mainly populated by indie/electro/rock-esque groups, but when its done well, metal can be awesome and really good fun. On Saturday, i ventured to the wilderness that is New Cross to see my mate's band, Eighth Day Descent, display their "stunningly fast technical brutality" to a crowd of, maybe about 100 onlookers.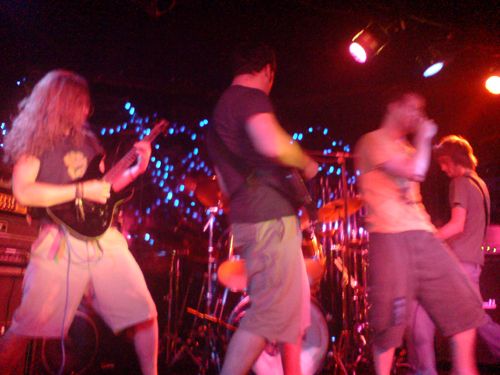 The 5-piece have been together for around a year
and in that time have recorded a five-track ep and have gone on a U.K tour, which had taken in such wonderful places as Bath, Birmingham, Wales and Middlesborough, before hitting London for this date, but the week and a half, squashed, in a Renault Espace didn't show when they got on stage.
The whole band are technically very impressive and this talent seems to give them alot of confidence when they're up there infront of a room of people, looking to be impressed. Their lead "singer" strikes an imposed figure when towering over you, screaming out his passionate words. This is even more striking when accompanied by the backing track of some extremely quick and pretty brutal guitar work, a nice, solid but varied bassline and some of the best drumming i've heard for a while. Some people may complain about the lead vocals, but i think they work with the music so well that anything else would just sound silly. At least they have a bit of singing in their tunes unlike some lame bands *coughcough* Sullen.


It was a set full of chug, stroke picking, bass tap and slides, screaming, singing, shouting, crazy drumming, dancing, passion, talent and most importantly good fun, they really looked happy to be up there, performing for everyone, which to be honest is the reason to be in a band. At points during their tight, lightning paced, full-on and all-round impressive set, i almost forgot my mate was in the band, which shows that they've got something a little bit special
Check out this video of them playing Known/Unknown that night here (watch out for my drunken, bobbing head come into shot about halfway through)

And here's one of their lovely tunes:
Eighth Day Descent - Benedict

Check out their myspace for news, info and more tunes
Thanks to Nina for the video and photos