Mercury Music Prize 2009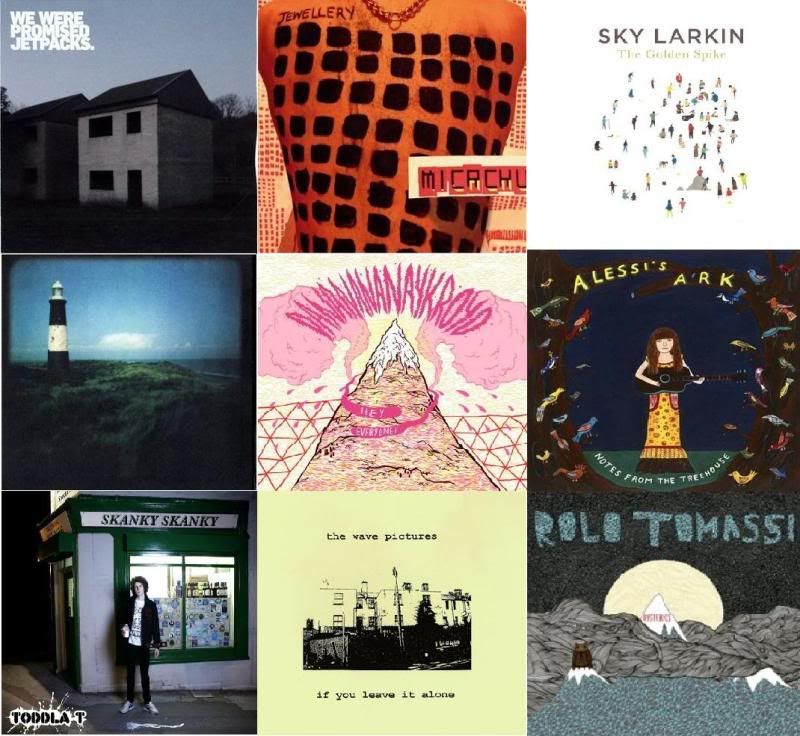 The last year has been interesting for British music. There has been so many great albums that past under the radar of the public and were seemingly ignored by the media whereas there has been tons of bland, boring and uninspiring releases that have been lauded, praised, hyped and bought by the public, who I sometimes think don't like music at all.
I've been asked by the BBC, as have many music blogs/sites, who I would nominate for this year's Mercury Music Prize. Now, I never really agree with the winner, or the most of the nominees, of the prize and I feel that the majority of British talent isn't highlighted. Let's take last year for example. I can't really see how the judges thought that

The Seldom Seen Kid

was better than

In Rainbows

or

Untrue

. I was and I still am shocked.
Also I find that most of the best British and Irish music released throughout the year are put out by labels that can't afford the £200 registration fee and to send 25 copies of the album to the judges so many of the best albums are undemocratically subbed.

Anyway, I stop my rant. Here's my choice of nominations:

We Were Promised Jetpacks - These Four Walls (FatCat)
I reviewed These Four Walls for the next issue of Drunken Werewolf magazine and I praised it quite highly but since then, I given the album more listens and... its even better. Tense, agitated and epic in places. Best British debut of the year.



We Were Promised Jetpacks - Ships With Holes In Will Sink



Michachu & The Shapes - Jewellery (Rough Trade)
Oddball production and quirky instrumentation but Michachu has create a collection of misfit pop tunes thats experimental and catchy simultaneously.



Michachu & The Shapes - Calculator



Sky Larkin - The Golden Spike (Wichita)
Clever and spacious indie rock from Leeds' finest trio. Full of intelligent lyrics, crunching guitars and ace melodies.



Sky Larkin - Molten



Blue Roses - Blue Roses (XL)
Folk music at it's most devastatingly beautiful. Laura Groves' voice is so pure and untouched and the content is dark, a bit edgy and utterly compelling.



Blue Roses - I Am Leaving



Dananananaykroyd - Hey Everyone! (Best Before)
The most fun you'll have with a record all year. Shout along, flail around your bedroom and play totally awesome air drums with the 6 headed Glaswegian beast of a band.



Dananananaykroyd - Chrome Rainbow



Alessi's Ark - Notes From The Treehouse (EMI UK)
Doing her best Joanna Newsom impression, Alessi's debut album pulls Ms Newsom fantastical lyricism and mixes it with Mike Mogis' production to build a slab of English Americana.



Alessi's Ark - The Horse



Toddla T - Skanky Skanky (1965)
My album of the Summer and maybe, but probably not, the dance choice for this year's Prize. Full of dancehall enthusiasm, jungle energy and some body-bending beats, it will get you through hot days and long, sweaty nights.



Toddla T - Shake It



The Wave Pictures - If You Leave It Alone (Moshi Moshi)
They missed out on nominations last year for the, ultimately better, Instant Coffee Baby, so it's only right that they get shortlisted with the latest effort. Though it's not as good as last year's release, it contains all the elements that made ICB such a bloody good release. One of the most consistent, and best, British bands of the past 10 years.



The Wave Pictures - If You Leave It Alone



Rolo Tomassi - Hysterics (Hassle)
The Mercury Music Prize never give heavy music the recognition that it deserves. The UK's punk/metal/rock scene is as thriving as ever and I think Rolo Tomassi are the most inventive and exciting out of all on offer. Hysterics is a bruising, challenging and aggressive album that blasts and sprawls in every direction possible but maybe it's a bit too uncompromising for the Mercury audience...although I'd love to see them perform live on the night and watch Jools Holland's face as it melts from the awesome mayhem that would ensue.

Rolo Tomassi - Abraxas

To be honest, none of these albums will be nominated. The panel will go for crap like Doves, Franz Ferdinand, The Horrors, Little Boots, La Roux and the public will be none the wiser about all the good music this country produces. Ah well...