Tin Pan Alley Festival
Denmark Street. World-reknowned for selection of musical instrument shops, particularly the 6-stringed, rocking variety and today it played stage to my first festival experience of my summer, Tin Pan Alley Festival.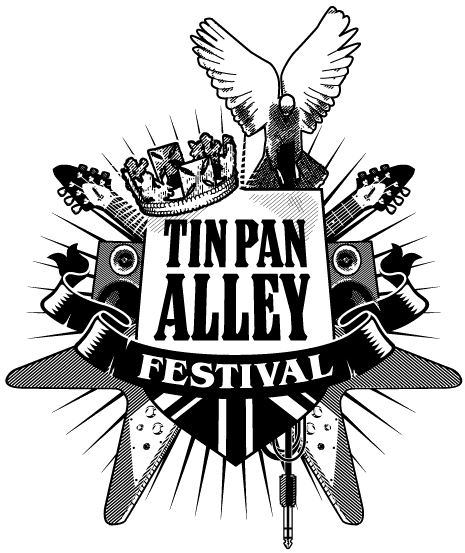 A stage had been set up at the far end of the street, which itself was fenced off and tightly patrolled so that by the time i got there, after a gruelling day of waitering at Lords, i had missed Untitled Music Project expectedly fiery set and the eager crowds were queueing to get in. I arrived halfway through Bromheads Jacket set and had to watch it from Charing Cross Road but their exuberance
and energy still translate through the air and smack you in the face. This has to be partly credited to the technicians as the sound quailty was excellent, much better than far too many indoor gigs i'd been to recently, but lets not take anything away from the Bromheads, whose live performances are something to admire, full of life and energy. Ending on

What If Maybe

usually leads to the crazed fans invading the stage, but not today due to the tight security, but the crowd still went off.


After that the security became a bit less fascist and started letting people through the barriers. Somehow i'd wiggled my way near the front and got in quickly. Bonza! Had to watch some poorly organised air guitar competitiom, which to be honest was absolutely crap (Where were the classic rock poses?), before next and final band appeared onstage and they were British Sea Power.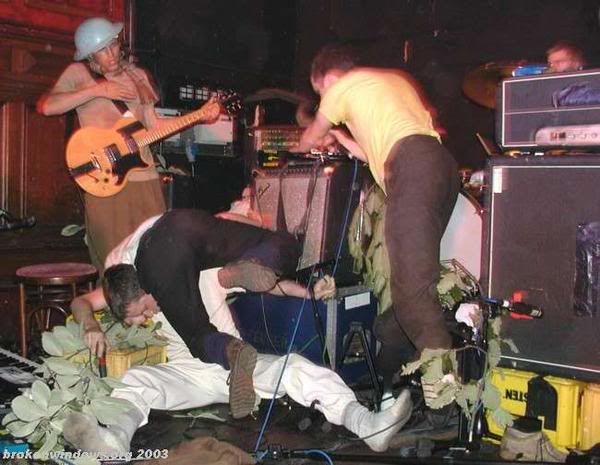 I have to admit that i'm not their biggest fan, no that came out wrong, what i meant was i'm not their biggest fan yet! The few recorded tracks i've heard haven't left me compelled to rush out and buy their cds but live, live they're so much fun. They played a set full of joyful, singalongable, almost anthemic tunes, which their branch-waving adorers just lap up. By the end of their short, but sweet set, a tambourine had been played with a croquet mallet, the guitarist had sat on a first floor storey windowsill, some little kid (apparently the winner of the air guitar comp) had taken the stage and taken over guitar playing duties, many branches and twigs were snapped due to excessive waving and i was smiling, so the band of quirky and talented men had done their job well. Found two clips from their performance on youtube here and here

It seemed like a really good little festival with an atmosphere, that was for central london unexpectedly friendly and a sound quality that was superb. Definately one to remember for next year, being free especially and a great start to my summer of music.

Here's a few tracks from the two bands that performed:

Bromheads Jacket - What If Maybe


Bromheads Jacket - Trip To The Golden Arches




British Sea Power - It Ended On An Oily Stage




British Sea Power - Carrion



Now can i ask you guys 2 favours:
numero uno) Can someone recommend to me some BSP tracks to download as i want to give them a proper listen?
numero duo) If anyone has any photos from the day, i'd love to see them. I'd put them up and give you a mention if you have some. my emails at the top of the blog
Merci