Friday Face-Off : Round 4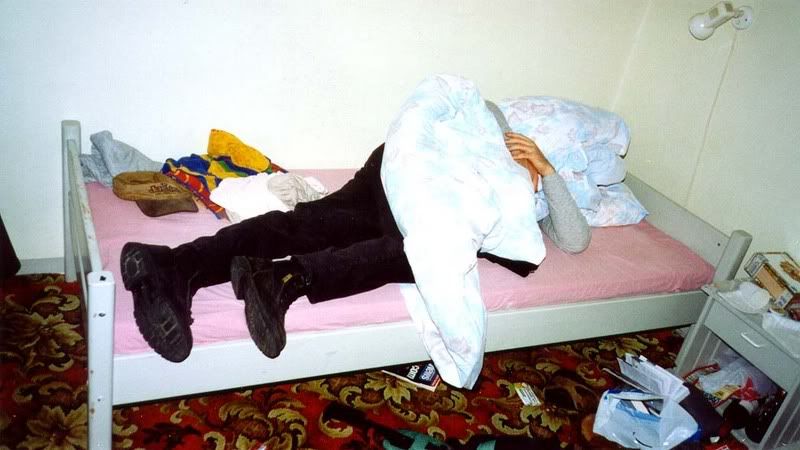 We're back!!! After a long, and well deserved break, finally both me and Neb are back to full strength and mental health, to re-enter the funfunfun ring and musically battle each other to the death. Just a quick recap, its 3-1 to moi so Neb needs your votes.
This friday's theme was chosen a few weeks back after my birthday celebrations and is songs to listen to when you have a hangover so grab a drink, or five, and get involved.
Steppping up to the plate first is Neb
Jawbreaker - Accident Prone
I tell you this, a cup of tea and a cheese and Marmite toasted sandwich, patented hangover cure. Its great, not too agressive but isn't so gentle that I feel sorry for myself and end up acting fragile all-day. What can be more important than something that helps get rid of your hangover. In fact play the whole album and by the time Boxcar comes round you may even be smiling.
Now its my turn
Iron & Wine - Lion's Mane
I'm sure we've all been there. Waking up in a hot, stuffy room, still wearing the clothes from the night before, your mouth feels all furry and there seems to be a slow, but excruciating pounding going on somewhere in the depths of your brain. You just want to curl up in a ball and stay there until its all over, well here's your perfect soundtrack. This song, and album, has got me through so many mornings, and days, when i just couldn't do anything except lay in bed, moan alot and let Sam Beam's extraordinaryly smooth and soothing vocals take the pain away... oh yeh and throw up.
There you go. I think the best way to make your decision this week is through a bit of "method voting". Just get very, very, very drunk this weekend (both me and Neb would recommend Jagermeister for that) and then when the hangover kicks in the next morning play both songs and vote for whichever works the best. Well its up to you so start drinking now.