Staying Up All Night 3
I think this is going to be my last post of the night coz i can feel tiredness setting in, my eye-lids are getting heavy so before i get some shut-eye, i thought i'd leave you with a few bands that have recently, well i say recently, i mean in the last year, broken up, parted ways, ceased to exist, you know what i'm getting at.


First up its Bullet Union. This quartet went their separate ways over the summer, which i thought was a great shame as they were one of the most excited and intense live bands i'd seen for ages. In their four year lifetime, they put out one amazing full-length record, one 7-inch and toured intensively in any place they could, just to get their DC-sounding, sledge-hammeresque indie punk to as many ears as possible. It was live were the band really came into their own, they played with every amp up to full volume, literally blowing away everyone in the audience and most of the bands they played with. They'll be sorely missed.


Bullet Union - Stay Indie, Don't Be A Hater
Next is Million Dead. I just listened to their Smiling At Strangers On Trains single today and it still sounds as fresh and raw as it did the first time. They produced such urgent and immediate punk songs that were so refreshing at the time, i remember seeing them supporting thisGIRL at The Garage a few years back and being mesmerised by frontman Frank Turner, he had such a commanding presence and delivery and the band sounded so good, even when the guitarist broke a string during the first song they still kept it all together. The band released two albums and, like Bullet Union, they toured their arses off. Now they've split Frank's gone acoustic and apparently is really really good, haven't heard anything but will have to give him a listen.
Million Dead - Smiling At Strangers On Trains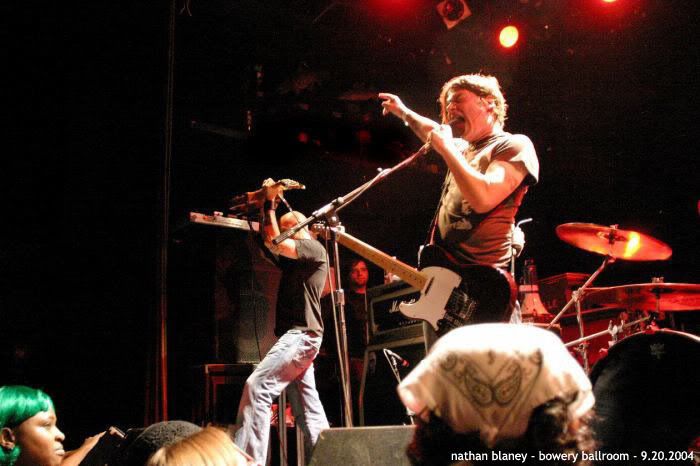 And finally there's Instruction. I was a huge fan of these guys as soon as i saw them at the Tunbridge Wells Forum supporting Funeral For A Friend. Like the two previously mentioned bands, they were a force-to-be-reckoned-with on stage, with frontman Arty "The One-Man Party" Sheppard usually spouting his mouth of about some state of affairs that he didn't like and they rocked the hell out. The band were formed from the remains of Errortype:11 and Quicksand guitarist, Tom Capone, and they created some vivid and in-your-face post-hardcore punk tunes. I only saw them a couple of times live but each time was incredible and so much fun. Now they've disbanded, they've already formed new bands such as Gay For Johnny Depp and God.Fires.Man so keep a look out for them.


Instruction - Are You Happy?



RIP and night night.