Catch-up
I've been pretty busy this week, work and mojito-fuelled fun, so i haven't been able to post much. I thought to make up for this i'd put everything exciting i found when i did have a bit of time to peruse the net.
There's been a few more One Minute Pop Songs, 3 in fact, which have probably been the most entertaining ones yet:
Episode 6 - Ben sings a spontaneous song about the recording studio, where he created his new album. its great!!
Episode 7 - BK plays us a cover of his song In Other Words, recorded by a Japanese fan. Worth watching just for the last thing Ben says.
Episode 8 - Mr Kweller discusses the process of recording the album all by himself, i think its called "layering"

There's a free, unreleased Emmy The Great mp3 available to download at The Downloader and its really, really good! Think i'm going to see her at The Old Blue Last on Monday, gigariffic!!

Check out the The Daily Growl post about Jeremy Warmsley, as well as some great writing, there's some session tracks to download including an immense version of At The Drive-In's One Arm Scissor. Never thought ATDI were an acoustic band, how wrong i was!

New series of Extras is on and is as funny and cringe
-worthy as ever. Keith Chegwin produced some of the episode's best (and worst) lines.

Oh yeh and i won the new Rachael Dadd cd, Songs From The Crypt, from Its A Frog's Life podcast. First thing i think i've ever won, i was so excited!!! It arrived yesterday and is the most delicate and beautifully packaged cd ever, hand-stitched as well!!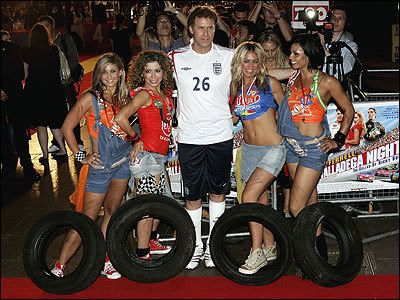 I'll leave you with a few tracks and this photo of Will F
errell at the British premiere of his new film, Talladega
Nights, it made me laugh so hard when i first saw it. I hope he wore it all the way through the film.

Ben Kweller - In Other Words


Cat Stevens - Tea For The Tillerman




Rachael Dadd - The Carpenter