Jack Lewis & The Cutoffs + Chris Maher + Noah & The Whale + Felix @ Bunker's Hill
Bunker's Hill is a funny venue, old man's pub downstairs full of smoke, se
ats and ale and upstairs is where the kids play music, full of cakes, comics and merriment. This atmosphere is r
eflected in the music played tonight which harks back to traditional roots but is being created by young and very talented people.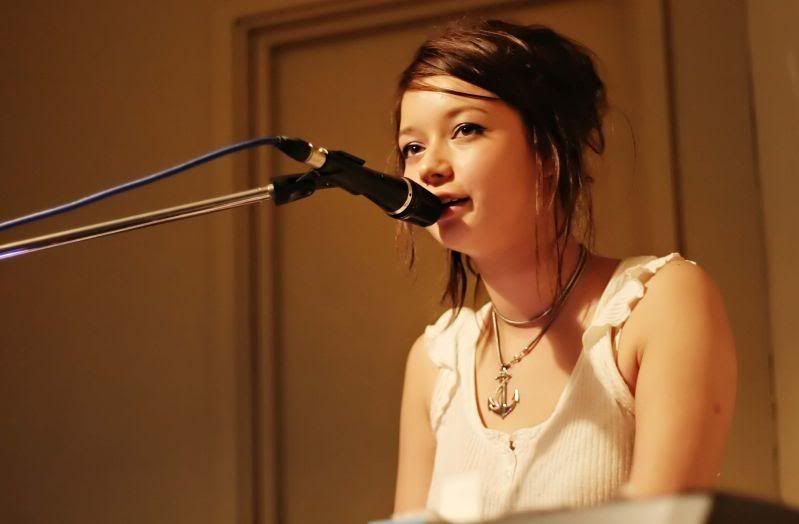 First up is Felix. Just a pretty girl behind a piano and a indie-looking guy wielding a guitar make up this local band, but they create some beautiful and atmospheric sounds. The pretty girl, Lucinda is her name, sings in hushed tones, sometimes mumbled and it sounds a bit like Cat Power singing Regina Spektor songs, the classical piano parts enforced the Regina comparison. The guitar was mucked around with, very experimently, as if the player had never picked one up before but somehow managed to produce noises that complimented Lucinda's playing and singing very well. Unfortunately i can't find any mp3s of them to offer you so just check out the myspace if they sound like your cup of tea.
I'd heard a bit about Noah & The Whale before this gig as the wonderful Emmy The Great sings backing vocals for them, although tonight she was on tour with Scott Matthews so couldn't contribute but the duo that played were capable of holding any audience capivated by themselves. Consisting of just one guy singing and guitaring, who looked like a young Lou Reed, and other playing a very stripped down drumkit, just bass and snare with a variety of percussion. Their songs capture a melancholy that i'm sure exists in everyone, i think it comes f
rom the lazy sounding vocals, but they also contain such hopefulness, a reassurance that things will get better no matter how shitty you feel and that made the performance work so well. After twenty minutes i felt happier than i had done all day. Definately worth checking out.
Before The Cutoffs finished off the night, Chris Mayer, one of their guitarists, played a short but very enjoyable set of his own material. It was very anti-folk, you know; basic chords, scratchy, untrained vocals but an wit and an energy that was so entartaining and watchable. He sang of lazy days on the streets of New York, love equations and ways to deceive and not for one second did i think of getting another drink at the bar or how much work i had to do the next day, Chris had me enthralled throughout.

He was then joined on stage by
Jack and t
he rest of the Cutoffs, which consists of Jack on bass, Simon (from the Wowz) on the other guitar and Raphi on the drums.
They play lo-fi noisy shit about parties, graffiti artists and The Unicorns and they also play quite a few songs by other people. Jack's voice is very raw, it sometimes goes a bit out of tune but he puts everything into it so you can't really fault him, and luckily he's backed by some nice har
monies. The band were told they could only play half a set amplified, due to demanding neighbours, but they take full advantage of it while it lasted with a goo
d few loud numbers, then ha
lfway through the set, the amps are switched off and the band take to the
centre of the room to close with set of acoustic tracks, a few Wowz songs, one written by Jack and Jeff, one by the Wave Pictures, and the whole room silently watched them perform their magic. A trumpet appears out of nowhere and accompanies a nice song sung by Jack, it really is proper DIY, nothings pre-arranged or organised, the band didn't even have a place to sleep that night and guess who offered them their floor, oh yes... moi (they were really cool guys).



Noah & The Whale - Death By Numbers




Chris Maher - mE=mc2




Jack Lewis & The Cutoffs - Graffiti Artists Bombs




Jack Lewis & The Cutoffs - Kids On Tour



This review is pretty poor but luckily the photos are awesome, there's more here, thank you Toby Price :)