The Research @ The Social
Street-teaming is a near sin in my book. Big-smiling people constantly badgering you, at gigs, to sign up to some band you've never heard of's mailing list in return for a poster, which you have to carry around with you, annoyingly getting in the way of your pint hand and which eventually gets left at the bar or dumped on the floor and forgotten about.
Thats only when other people are doing it though. When its me involved, its great! Getting in free - Great, some free merchandise - awesome and getting to the band is ace, especially when the band in question are really nice people, which i'm happy to say The Research are.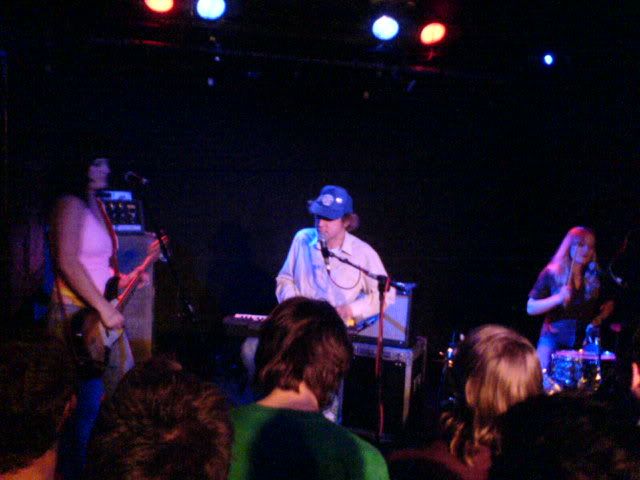 Their music sounds like various theme tunes of slighty odd and quirky childrens cartoons (i.e. Fairly Odd Parents/Atomic Betty) if Stuart Murdoch had a hand in penning the lyrics, which isn't a critisism as i've heard from some people but praise that they've pulled it off. Yes, the music is simple and slightly childish but this plays with the stories and images of Russell's superb lyrics and brings out other aspects of them which may not be obvious initially.


Tonight the majority of their set was taken from their debut album 'Breaking Up' from new single 'The Hard Times' to fan's (mine really) favourites ' I Love You But...' and 'True Love Weighs A Tonne' and it's live where these songs come to life. The mixture of onstage banter, perfect harmonies and a good bit of quirkiness brings the best out of the tracks, making even some of the duller moments off the album bright.
Things are looking good for the future too, with the one new track they played standing out and talk of the addition of extra instruments to the equation on the next album. I'm looking forward to it muchly. Now would you like to sign up to their mailing list?

I'd like to thank my main man Mark for the photos, they are gucci.

Here's a couple of tunes:

The Research - Ba Ba Ba
The Research - The Way You Used To Smile (BBC Session)

Buy their album coz they're very nice people just like you and me :

The Research - Breaking Up