Tilly And The Wall + The Teenagers + Lightspeed Champion + Slow Club @ Electric Ballroom
With no new releases planned for the near future, it seemed an odd time to tour the UK for Omaha lovelies Tilly And The Wall, but with their contagiously fun live shows
and a gaggle of great support acts, i really couldn't miss this show.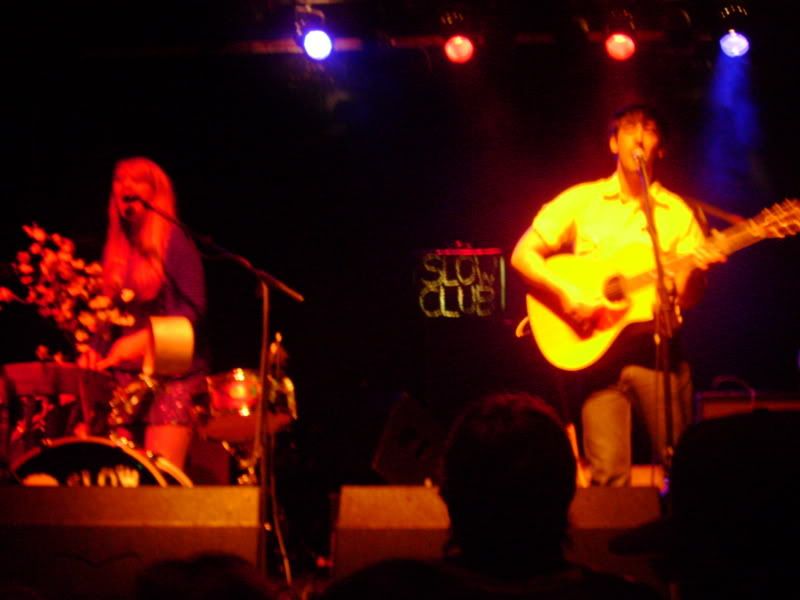 Slow Club were t
he first on the famous Electric Ballroom stage. Already adored by funfunfun, who was down the front singing and dancing along, Rebecca and Charles must have won over the small but intrigued crowd that had arrived early. For all those who made a fashionable late entry, it shouldn't be fashionable to miss these guys. They have such a way with a tune and their songs contain enough hooks, that one of them could bag more fish than those blokes on The Deadliest Catch...with a lot less death-defying and a lot more tea drinking. With their usual set up of guitar and random percussion, including spoons, glass bottles and a wooden chair, their minimalist style lends itself to the strip down indie folk racket they play and future single

Me And You

is a perfect example of this. All heavily strummed chords, beaten chairs and crazy lyrics, its a riot. Perfect start to the evening.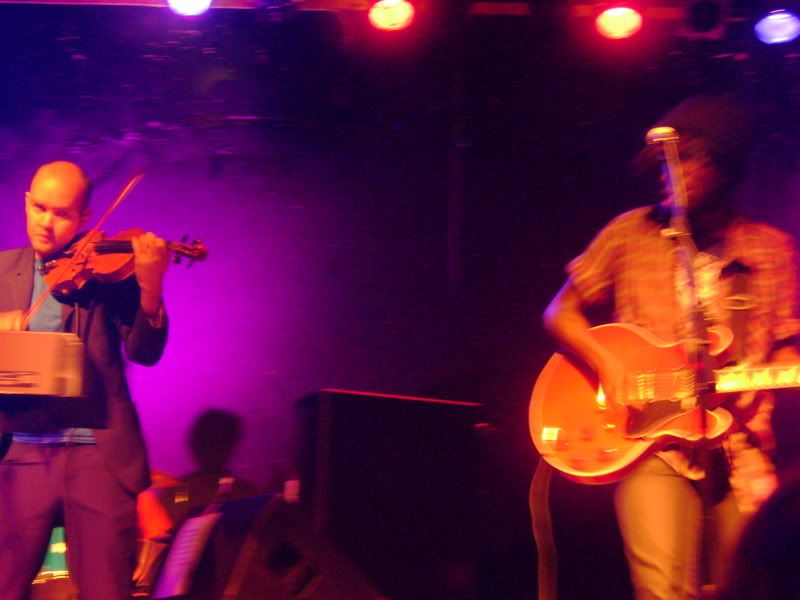 Lightspeed Champion seemed to have followed me from gig to gig this Summer, having supported Final Fantasy back in July and then played with The Mules in August, now here he was again. This time round he was back by a full band but disappointingly Dev had no female backing to support his sometimes grating vocals and it was pretty obvious. Songs like

Galaxy Of The Lost

and

Mr Fisk

sounded thinner without the feminine support of Flo or Emmy and the loss was detrimental to the performance. Dev and his violinist covered Eugene McGuiness'

Girl Who My Eyes Shine For

, which was surprisingly solid
and the epic closer, and next single,

Midnight Surprise

with its driving violin finale part - although the drummer seemed to want to overshadow everyone on that particular song - were highlights, t
he set was disappointing. For a band that i was quite excited about at the start of the Summer, its been hugely frustrating to watch their decline. I hope the album lives up to my expectations.
The Teenagers....hmmmm......where to start? Maybe with that they were perhaps, no definately the Worst Live Band I've Ever Seen. Dull and lifeless on stage, playing dirgey electro-indie that all sounded the same. None of the band seemed to be enjoying the experience, the lead singer wore a smirk throughout the entire set, which i read as "I know we're shit but hey, we're playing The Electric Ballroom." They were just so boring, even the addition of two intoxicated audience members to help the band out for the track

Homecoming

didn't help. In fact they made it worse, it was so embarrassing bad, you felt like you'd just
walked in on something that was meant to be publicly seen, like your drunk aunts during a family singsong. I just want to know how they got to tour with Tilly.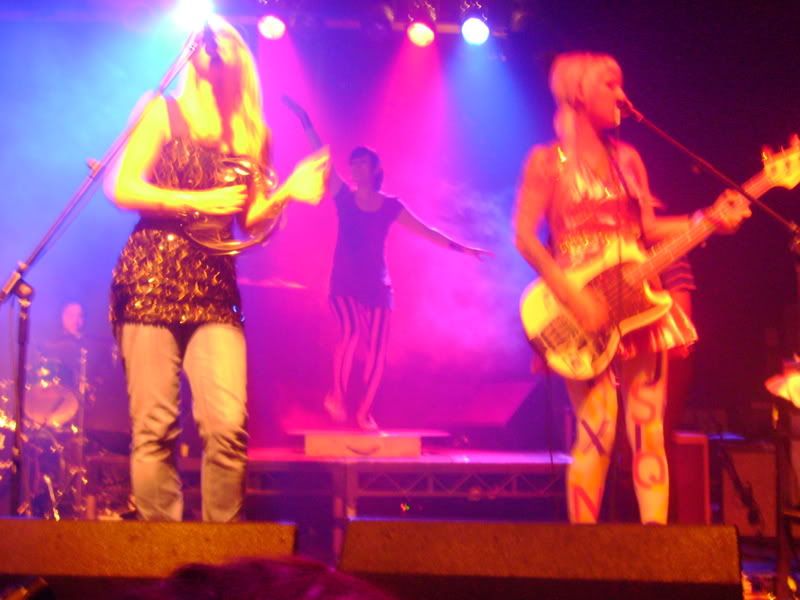 With nothing to promote, Tilly used this evening to experiment. The first unusual thing was how they set up on stage. Usually the five of them would be in a line as straight as an arrow across the front but tap-dancing Jamie was promoted to an elevated platform tonight where she stood... well twisted and twirled centre-stage all evening. Next to her, behind the rest of the band, stood a piece of equipment that may have brought floods of fear to many a devote Tilly fan...a drumkit!!! Shock horror!!! But when played along to the songs, the added thump of the bass drum and extra twacks here and there really brought out the energy and exuberance of songs like

Shake It Out

and

Urgency

. They were modestly used so that Jamie could have her time in the spotlight but when they were, the beats complimented the tapping of Jamie's feet.

They showcased a few new tracks off the album that they are currently recording, which sound alot punkier and raw than anything of their previous two efforts. All of the band looked like they were enjoying trying something new and this comfortableness was reflected in the crowd, who were loving every moment of it. The ending was the only off note of the whole performance, instead of leaving it with the euphoric atmosphere of

Brave Day

or giving us the classic

The Ice Storm....

the band decided to bring all the support bands back on and play a cover of Michael Jackson's

We Are The World

, which prompted a stage invasion. It all felt a bit tacky and unneeded but everyone who got on stage seemed to enjoy it. Maybe i'm just getting grumpy in my old age. But it was, as expected, a truly fun night. Tilly just make me smile.



Slow Club - Me And You (live)




Florence And The Machine - Galaxy Of The Lost




The Teenagers - Homecoming (Guns N Bombs Mix)




Tilly And The Wall - Shake It Out




Tilly And The Wall - Too Excited (Daytrotter Session)



Click here to see more fuzzy photos of the gig or here for some beautifully clear ones