The Mathletes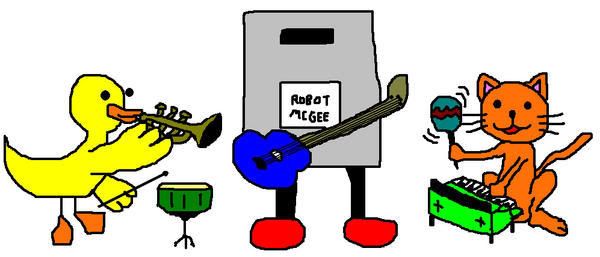 The first line on The Mathletes myspace bio states "Contrary to popular belief, we are not a children's band. Or a joke band"
and its a fair warning as their music sometimes sounds deliberately juvenile and whimsical. Just imagine Harry & The Potters singing songs about androids wanting to be toasters or a slightly less talented Unicorns warbling about a hornless unicorn. It may not sound that great and sometimes it isn't but when it works Mr Mathlete creates something cheery and jolly. Just listen to the last minute of Pinocchiobot when the harpsichord sounding instrument jumps aboard the already bouncy and pulsating rhythm, its ace.
On record they're just one man, Joe Mathlete, with a computer, plenty of instruments and a lot of enthusiasm. He's just recorded an album of covers, thats free to download from their site, some good, some bad, but its free so its worth checking out.

The Mathletes - Pinocchiobot
The Mathletes - Linger
The Mathletes - Les Os