Diane Cluck + Emmy The Great @ The Luminaire
I went to this gig on a whim. I knew it was going to be good but i was quite broke and it was a bit of a mission to get to. In the end i followed my heart and ended up on a tube to kilburn to see the incredibly talented and wonderful Emmy The Great and the mysterious and unknown, to me, Diane Cluck.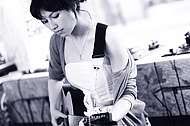 After sitting through quite a generic singer/songerwriter set from Elaine Palmer and chatting to a girl, who happened to be Emmy's sister, Emmy, herself, walked onto the stage. Occasionally accompanied by singer/violinist/xylophonist Johnny and guitarist Adam, Emmy played a set-full of engaging and wonderful tunes, which shut the crowd up and had all heads turned towards the stage. I think its Emmy's delivery which accomplishes this, the way she spits out her lyrical stories into the microphone with so much gusto and energy is just so captivating. The highlight of the set was her performance of b-side

The Hypnotist's Son

, a tale of lost friendships and trust set over a simple guitar sequence, with some amazingly constructed
lines and rhymes that are full of wit and aguish. Having apparently filled the tent at the recent Truck fest, things are looking up for Miss The Great and i can't wait to see where things go for her
At the end of her set, her fellow musician Johnny was allowed to play one of his own songs, as he was going off to be in a play for the next few months and it would be the last time they played with each other til his return. The funny thing was his raucous rendition of

Tickle Me Pink

, accompanied by Emmy and Adam, got probably the best response of the evening.


Next up was headliner and anti-folkstress Diane Cluck. Diane is a bit of an unknown quantity to me, having hardly any internet coverage but i was assured by some of my fellow gig-goers that she was worth watching. She initally seemed to be the same generic solo singer with a guitar type as Elaine Page but the more and harder i listened, the better she got. Lyrically she created some dark and imaginative images that floated through my head and some of her songs brought tingles down my spine but, unlike Emmy's confident and assured performance, she lacked the magic element that would make me want to follow this gig with a cd purchase.



Emmy The Great - The Hypnotist's Son


Emmy The Great - Edward Is Dedward
Johnny Flynn - Tickle Me Pink (Live)
Diane Cluck - Easy To Be Around
Diane Cluck - Bones And Born Again