Little Boots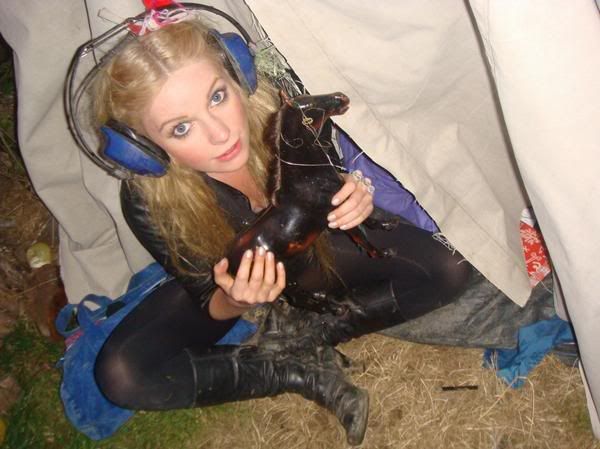 Little Boots was going to get featured in the long-delayed second issue of the funfunfun zine but seeing as that's been put on hold for the time being I thought I may as well take this opportunity to talk about her.
After the demise of the all-girl synth-pop Dead Disco, lead singer/keyboardist Victoria has gone out on her own. Under the guise Little Boots, Victoria creates bubbling, electro-pop tunes that wouldn't seem out of place in the Top 20.
Recent single

Meddle

is an infectious and sultry number. With Hot Chip's Joe Goddard on production duties, its got some heavy backing but its Little Boots' contribution thats the most striking. The subtle synth interplay, sexy and snarling vocals and the quality of the songwriting are first class - its reminscent of Annie and Robyn to name a few popstresses who could produce anything as good - and the added dirty percussion give it a edge.
Better still is LB's first offering

Stuck On Repeat

. Its builds and simmers for a minute and a half. Hypnotic keyboards and swirling bass layer and layer to create a sumptious mix of ecstasy which carries throughout the track's 6 minutes. The vocals again are sultry and passioned. And when the percussion kicks in over halfway through the track turns euphoric.
Now, having only been playing as Little Boots for a short time these may be hyperbolic words to lay on the young lady but they are throughly deserved and it seems others think so too. Already with one single under her belt, Victoria is releasing a ep later this month, entitled Arecibo, but only Stateside and will be performing on Jools Holland tomorrow so you'd better stay in... or just watch it on iplayer next week.



Little Boots - Stuck On Repeat


Little Boots - Meddle (Designer Drugs 80's Coke Remix)

p.s. Check out Little Boots' youtube channel. Lots of great gadgets and covers.
p.p.s. Its my 200th post!