This Is A State Of National Emergency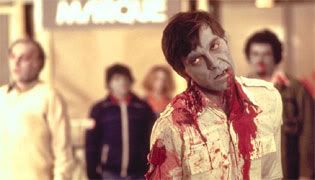 I love zombie films. They're just so badly made and stupid but the shoddiness endears them to me. I love the fake blood, the always pathetic blonde girl and the way the characters always seem to do the stupidest things, which usually ends up with them getting munched.
We just had a zombified night round my house with some friends. Played the boardgame Zombies! while watching the original Dawn Of The Dead, it was awesome. My friends thought the black guy in it was Laurence Fishburne but it so isn't. I'm sure its the guy in Final Destination who they meet in the morgue, I'm sure!!
To celebrate my love for all things Zombie, here's a few fleshing-eating tunes:
Jeffrey Lewis - If You Shoot The Head You Kill The Ghoul


Two Wooden Spoons - Zombie Jambouree




Tilly And The Wall - Night Of The Living Dead


Send More Paramedics - Nothing Tastes Like This

(mmmm zombie-core!!)



p.s. That Tilly And The Wall/Absentee gig in a library that i mentioned has been cancelled. Refunds can be received at the info desk in the library
p.p.s. If you haven't already vote on the Friday Face-off, see the post below for details!!!